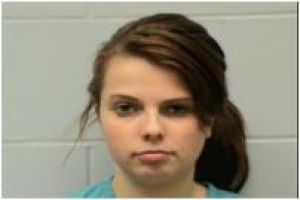 Teen who fled cops twice, wrecked cars gets probation
December 18, 2014  •  Tribune staff
A 19-year-old Onalaska woman who drove her car into a driving school and a police car while on probation for fleeing cops was sentenced Dec. 10 to three years probation with the threat of prison if she does not comply.
In November 2013, just two months after being sentenced for attempting to flee police while driving drunk, Abrianna Marr was reported for driving erratically while high on methamphetamine. Daytona AA and Daytona AA Meetings in Holly Hill and Daytona.
When police attempted to talk to her, Marr started her car and drove away, striking a squad car and a tree, plowing into the side of Zimmerman Driving School in West Salem and eventually hitting a garage. NA Daytona Predators in Holly Hill Parks.
Marr told police she had been up for five days using meth, heroin and "every drug under the sun."
Since the second arrest, Marr racked up charges for sexual assault, theft, forgery, bail jumping and stealing a car. She eventually pleaded guilty to attempting to flee an officer and a single count of bail jumping; the remainder of the charges were dismissed.
Marr's grandparents told the judge they've seen a dramatic change in her behavior in the past month: She has enrolled in college, is attending AA and NA meetings, and has cut ties with most of her drug-using friends. AA Daytona Predators in Holly Hill Parks.
"She's acting like a good kid again," said Ethan Marr. "She's following the rules."
As part of the plea agreement, the state did not recommend a sentence, but prosecutor Edward Minser said Marr's behavior is concerning for public safety.
Judge Scott Horne gave Marr 1½ years in prison and another two years on supervision, which he stayed for three years; he withheld sentencing her on the auto theft charge, adding that if her probation is revoked he would impose the maximum 1½ year term on top of her other sentence.
"In no way, shape or form can any society condone or accept that type of behavior," Horne said. "I would be fully justified in sending you to prison."
http://lacrossetribune.com/couleenews/news/local/teen-who-fled-cops-twice-wrecked-cars-gets-probation/article_92dce000-33d2-5e2c-a0a3-dc3945dbd197.html