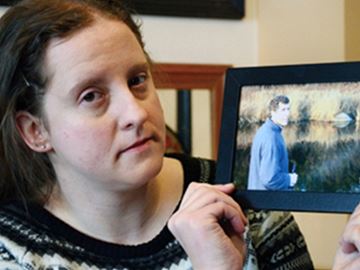 Men need to be careful too attending AA meetings, as female killers attend as well to impress the judge to get lighter sentences. She attended AA for 3 years after stabbing her lover death before her plea deal.
Richmond Hill woman pleads guilty to manslaughter in stabbing
Looking for closure
Jennifer Hutchin holds up a photograph of her brother, Greg Goodeve, who was killed in 2010 in Richmond Hill. Mr. Goodeve's girlfriend, Renee Laurence, pleaded guilty to manslaughter in his death.
A woman who killed her lover during a booze-fueled night in 2010 has pleaded guilty to manslaughter and requested her bail be revoked so she can begin serving her expected six-year sentence. NA and AA Daytona Beach Meeting.
Renee Laurence, 34, who admitted guilt in the 2010 stabbing death of Greg Goodeve, called an end to court proceedings that were expected to continue until 2015, had it not been for the Nov. 1 plea bargain. Continue reading →