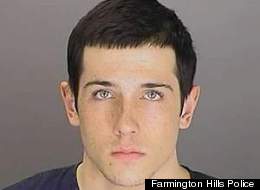 Social media offers peek into Tucker Cipriano's life before attack
June 1, 2012  |
 Nearly two months before he was accused of attacking his family, Tucker Cipriano asked friends on Facebook whether anyone went to local Alcoholics Anonymous meetings.
According to police reports, Cipriano was known to use synthetic marijuana and was said to have stolen from his parents.
Social media has offered a glimpse into the life of Cipriano, 19, who is accused along with a friend of breaking into his parents' home on April 16, beating his father to death with an aluminum bat and nearly killing his mother and one of his brothers.
A Feb. 26 message on Cipriano's Facebook page — he posted under the name Johnathen Kodiak Hammond — asked: "anyone go to any A.A. meetings around farmington?" A later message, responding to someone giving a meeting location, said: "u go? i need someone to go with."
On March 24, a message was posted, apparently by Cipriano, saying he was "Chillin thinking bout life. Who i am going to meet. Where am i going to go. Where im going to end up. But for now just have fun and enjoy life."
A witness testified earlier this month that Cipriano and Mitchell Young, 20, plotted to kill Cipriano's family, even divvying up who would kill whom. Both are facing first-degree murder and attempted murder charges.
Since the attack, a handful of Cipriano's supporters have posted messages on Facebook and on the websitewww.tuckercipriano.com , calling him an angel, saying they love him and that "the world will know who the real Tucker is."
"We miss you dearly," says a Facebook message posted May 14 by a young woman who at one point lived with Cipriano and Young in a motel room in Farmington Hills before being evicted, according to a police report. "Stay strong, and never lose faith. We all love you, and never will stop loving you. Till the end of time, you will never be forgotten."
Messages sent to the woman were not returned.
Messages of support for Cipriano on the website have been met with backlash by other posters, some calling his supporters "sick" and "pathetic."
Posters have offered support for the Cipriano family, as Rosemary and son Salvatore recover from the attack, which killed Robert Cipriano.
Friends and loved ones say they are thinking about the family.
"In our prayers every day," one person wrote.
http://www.freep.com/article/20120601/NEWS03/206010404/Social-media-offers-peek-into-Tucker-Cipriano-s-life-before-attack
Son charged in baseball bat attack on Mich. family
April 18, 2012
By STAFF, Associated Press
April 18, 2012
In this undated photo released by the Dearborn, Mich., Public Schools, Robert Cipriano is shown. Cipriano, who managed finances for a Detroit-area school district, was clubbed to death with a baseball bat early Monday, April 16, 2012 in an attack that also left his wife and a son critically injured, police said. Police arrested three suspects, including the victim's 19-year-old son, who has a previous conviction for drugs. (AP Photo/Dearborn Public Schools)
FARMINGTON HILLS, Mich. (AP) — A 19-year-old man on probation for drug convictions was charged with murder Wednesday for a baseball-bat attack on his family that killed his father and critically injured his mother and brother in suburban Detroit.
Separately, the Michigan Department of Corrections said it suspended Tucker Cipriano's probation agent while it investigates why there had been no formal contact between the two since mid-March.
Robert Cipriano, 52, was bludgeoned to death in the wee hours Monday after Tucker Cipriano and Mitchell Young, 20, broke into the family's home in Farmington Hills, northwest of Detroit, police said. Police believe the men were in search of cash or valuables.
Rose Cipriano, 51, and another son, Sal, 17, also were attacked with a bat and remain in critical condition. Sal's twin brother, who called 911, and an 8-year-old sister were not physically harmed.
"The tragedy and brutality of these crimes is horrific," Oakland County Prosecutor Jessica Cooper said.
Tucker Cipriano and Young — each charged with first-degree murder, attempted murder and armed robbery — appeared in court Wednesday by video from a police lockup and were ordered to stay in jail without bail. Not-guilty pleas were entered, and defense attorneys will be assigned.
Young, who was captured inside the Cipriano home, sobbed loudly and declared, "I'm not guilty. I didn't do any of this!"
Tucker Cipriano is a high school dropout with drug convictions. He was released from jail in February and placed on probation. While in jail, he wrote a letter to a judge saying he wanted to join the Marines.
Cipriano was supposed to see his probation agent April 5 but didn't, Corrections Department spokesman Russ Marlan said. The agent has been suspended with pay, although Marlan emphasized that the penalty was not a direct consequence of the crimes.
"This isn't about someone's ability to predict this or see this coming," Marlan said Wednesday, noting that Cipriano had no history of violent crimes. "It's just the technical issues of supervising a case. If any offender misses a report date, our standards require an agent to take some action within two business days. That among other things will be what we're reviewing in our investigation."
Robert Cipriano was the financial manager at Dearborn schools, one of the largest districts in the Detroit area. At Detroit Catholic Central High School in Novi, where the Cipriano twins are juniors, 1,000 students signed a banner that says, "Sal and Tanner, Your CC Brothers Are With You."
http://cnsnews.com/news/article/son-charged-baseball-bat-attack-mich-family